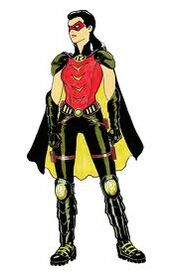 Raptor is cruel and ruthless. She is the polar opposite of Robin.
Allies
Airren, Makeshift, Crow, Blazefire, and Cy-beam.
Powers
None. She is an evil genius who uses many gadgets for her, and her teams schemes.
Alignment
Evil. She ties his foes down and straps a landmine to their chest. If they move, they die.
Species
Human.
Location
Jump City, Alternate Reality
Information
Raptor, being the genius she is, is misunderstood. That is what drove her into joining the Terrors, for she wanted to get back at everyone who teased her. Like the other Terrors he was teleported to the Titans dimension while fighting Captain Charisma.
Main Enemies
Captain Charisma, and Robin.
Ad blocker interference detected!
Wikia is a free-to-use site that makes money from advertising. We have a modified experience for viewers using ad blockers

Wikia is not accessible if you've made further modifications. Remove the custom ad blocker rule(s) and the page will load as expected.