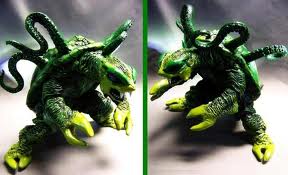 Makeshift is the alternate reality Beast Boy. He can turn into anything.
Allies
Airren, Crow, Raptor, Blazefire, and Cy-beam.
Powers
He can shape-shift into anything he can imagine. He is also very gifted with electronics.
Alignment
Evil as can be. He loves to turn into giant anacondas to finish off foes.
Species
Unknown.
Location
Jump City, Alternate Reality
Information
Makeshift is second-in-command on the evil team called the Teen Terrors. He was also one of the original team members. During a battle with the teams arch-enemy, they were transported into the teen titans reality.
Main Enemies
Captain Charisma, Larry, and the Teen Titans.
Ad blocker interference detected!
Wikia is a free-to-use site that makes money from advertising. We have a modified experience for viewers using ad blockers

Wikia is not accessible if you've made further modifications. Remove the custom ad blocker rule(s) and the page will load as expected.