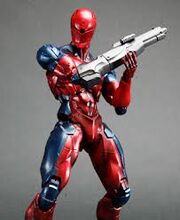 Cy-beam. He has never failed a kill, is savage, cold, and more-so robot than human.
Allies
Airren, Makeshift, Raptor, Crow, and Blazefire.
Powers
Cy-beam has the ability to hack any system or machine. He can shoot blasts of sonic energy out of his cannon-hand.
Allignment
Evil, he disintegrates his foes while standing over them. The last words he let's them hear are "TARGET TERMINATED."
Species
Cyborg
Location
Jump City, Alternate Reality
Information
Besides being a part of the Teen Terrors, he is also a mercenary-for-hire. Like other Terrors, he was teleported to the Titans reality while fighting Captain Charisma.
Main Enemies
Captain Charisma, and the Teen Titans.
Ad blocker interference detected!
Wikia is a free-to-use site that makes money from advertising. We have a modified experience for viewers using ad blockers

Wikia is not accessible if you've made further modifications. Remove the custom ad blocker rule(s) and the page will load as expected.