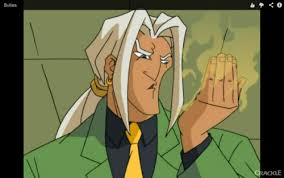 Ruthless, savage and deadly, Airren is the opposite of Terra.
Allies
Makeshift, Crow, Cy-beam, Raptor, and Blazefire.
Powers
He can control air, as well as other gasses, such as carbon dioxide. He also has super-strength.
Allignment
Evil. He brutally forces his defeated foes hundreds of feet in the air, then simply drops them.
Species
Human
Location
Jump City, Alternate Reality
Information
Airren is the leader of the alternate reality Teen Titans, called the Teen Terrors.He formed the team at 15, with the original members being him, Cy-beam, and Raptor. While Airren and the team were fighting their arch-enemy, Captain Charisma, a kinetic blast went off, and teleported the team into the titans reality.
Main Enemies
Captain Charisma, Larry, and the Teen Titans.
Ad blocker interference detected!
Wikia is a free-to-use site that makes money from advertising. We have a modified experience for viewers using ad blockers

Wikia is not accessible if you've made further modifications. Remove the custom ad blocker rule(s) and the page will load as expected.